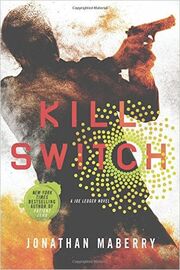 Kill Switch
is the eighth novel in the Joe Ledger series written by American author Jonathan Maberry. It was frst published in April 2016 by St. Martin's Griffin.
Terrorists have acquired a terrible new weapon that can crash the power grid and plunge America into a new dark age. A coordinated attack is planned to shut out all the lights and emergency services to ten major cities. Planes will fall, hospitals will go dark, no help will come.
And in that terrible darkness, a dreadful plague will be released. If the lights go off, nothing can stop the bioweapon from killing millions.
At the same time, the intelligent services are being torn apart from within by a plague of betrayal, murder, and suicide. Even the Department of Military Sciences is stumbling to its response f the growing threat.
Time is running out, and Joe is being hunted by a terrible new kind of assassin. A team of remote viewers have the ability to take over any person and turn any citizen into killers. Where can you turn when there's nobody left to trust?
Joe Ledger faces his deadliest challenge as friends and allies become enemies and all of the lights begin to go out...
Plot Summary
Edit